Happy New Year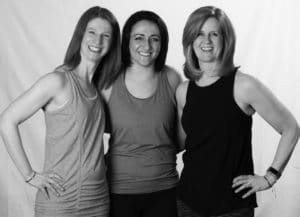 As we head into a bright New Year, we wanted to take this opportunity to reflect on this past year and look forward together. Oftentimes, the New Year means New Year's Resolutions. And New Year's Resolutions often focus on looking forward and changing something. For us, while we want to look forward, we are first looking back so we can appreciate, learn, and build upon all of it together.
Looking Back
It was just one year ago that we – Alison, Sandy and Susan – took ownership of Pulsation Yoga. With the support of studio founders Kathy and Jim, we embarked on this great adventure not just for this yoga community, but with this yoga community. That includes students, friends, teachers, local businesses, schools and even other local studio owners. And it includes those of you who have supported Pulsation Yoga from the first day to those of you who have joined us along the way.
Each and every one of you has supported us, helped us, practiced with us, laughed with us or somehow joined us on this adventure. For that, we are forever grateful.
Looking Forward
So, as we move into a new year, full of new adventures, we are not losing sight of what has brought us here together – Community. And we are continuing to build upon it. Our mission statement remains the same from our first day: To create a true yoga community through the alignment of body and spirit.
Our hope is that you continue to see this reflected in everything we do. To this end, we are incredibly proud of our yoga instructors who have always carried this in their hearts and through their classes. They are a cornerstone what makes Pulsation Yoga the studio it is today.
Looking ahead, there are a lot of great things to look forward to this year and we are so excited to share them with you. For example, we already have so many exciting classes and events planned at both studio locations in 2020, with all of your interests in mind, such as:
New classes on the schedule
Yoga Studies and Yoga Teacher Training
Book Discussions
Meditations
Yoga Workshops
Ayurveda Workshops
Yoga for Golfers
Yoga for Scoliosis
Community Fundraisers
Fall Retreat
We are bringing in experts from around the country and from our local community to share their expertise and help all of us continue our practice and expand our knowledge. So please keep in touch on this website, on our social media and on email so we can keep you updated on all the great classes, new teachers and exciting events ahead.
With Gratitude
The three of us sincerely thank you all for your part in this community and its growth. Pulsation Yoga would not still be here if not for all of you, and we will continue to do everything we can to keep it strong.
We look forward to a bright New Year with you.
Namaste,
Alison, Sandy & Susan