Pulsation Yoga Teacher Training Reviews
If you are considering yoga teacher training or getting your 200 hour yoga certification, it's important to choose a program that will best suit you. Research the studio style, the trainers leading the program, and most importantly, what others have to say. As you are considering the Pulsation Yoga 200 Hour Yoga Teacher Training or the Yoga Studies Programs, here are a few thoughts from past yoga teacher trainees:

"Pulsation Yoga is a phenomenal school that is not only filled with knowledgeable teachers but provides workshops that broaden student's understanding of yoga and make it an amazing experience. It is friendly to all levels and meets students where they are at. I highly recommend this program!"
— Marisol F., 2023

"I dreamed of studying to be a yoga teacher for many years. I am so thankful to Pulsation for making that dream come true. The training was inclusive, supportive, flexible, and taught me so much more than I expected to learn. I will carry this accomplishment and friendships with me always – I am forever changed and grateful."
— Jessica N., 2022

"The training was very thorough and really included a lot of self reflection and opportunities to grow one's own practice within a supportive community. I sincerely appreciated the training and highly recommend it to anyone looking for an in depth training that prepares you for the classroom and beyond."
— Navraaz B., 2022
We are proud of every one of our past graduates and so excited to have them as part of the Pulsation Yoga community. You can view even more of our 20+ 5-Star reviews on Yoga Alliance.
"I feel more prepared and excited to begin my teaching journey than I even imagined"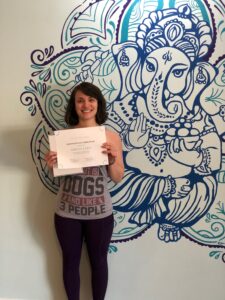 "Alison and Sandy went above and beyond in terms of supporting me as a student not only throughout my training, but also after. They were always very responsive and easy to reach between training sessions, and I know that I can still turn to them for advice at any point. They truly prioritized developing my teaching skills, helping me find my voice, and building my confidence. Pulsations YTT is a beautifully structured program, and I appreciate the focus on yogic philosophy, anatomy, and the logic behind writing a class. I'm so thankful that I completed my 200-hour training with Ali and Sandy because I feel more prepared and excited to begin my teaching journey than I even imagined."
– Ashley L., 2020 YTT Graduate
"I am truly grateful for this experience and proud to say it was at Pulsation"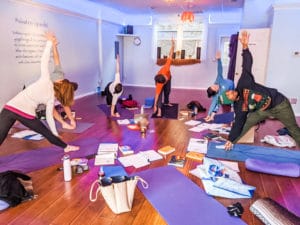 "In the beginning of the year I was wide-eyed with the size of the syllabus but I never left any of the weekends feeling overloaded or burned out. My teacher training teachers did a great job at managing our 200 hours, put care into planning class, and were fun to learn from. Training was a mix of study, practice, and discussion, in person and online. I had opportunities to attend workshops, meditations, and have extra time with teachers. One time during the training, a global pandemic broke out and my teachers quickly took action to keep the community safe and continue the training when appropriate, without detriment. I am truly grateful for this experience and proud to say it was at Pulsation."
– Justin R., 2020 YTT Graduate
"There is a magic that happens at Pulsation"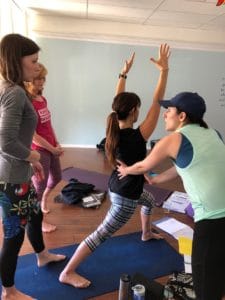 "Anyone who knows me, knows that the 200 hour YTT at Pulsation is very near and dear to my heart. The Pulsation community is like none other, and their Teacher Training program is a wonderful representation of that.
This is a time commitment that could make some turn away from the idea, but the program allowed ample flexibility (that is not a yogi pun), while also maintaining discipline in covering what was on the syllabus. Which by the way – was ALWAYS exciting, offered extra resources and perspectives and was laid out in such a way that opened the floor for tons of discussion. There was a perfect mix of reading (amazing books), writing/journaling, discussion (feedback on all sides), anatomy and asana practice.
To me, this is not an ordinary studio or an ordinary teacher training program; there is a magic that happens at Pulsation. The owners and instructors are not only well-trained yogis; but they are caring, compassionate, encouraging and supportive. You can actually feel the love and support.  I remember all talking about our goals for the program at the start, and revisiting those in discussions throughout the program. It was important to Ali, Sandy, and Susan that we felt we were getting what we wanted out of the program and to assist us if we felt we were falling short of our goals.  Whether you plan to teach yoga or not, I think the teacher training program is a great opportunity for anyone to deepen their yoga practice and truly experience the benefits of yoga.
The entire program was valuable information presented in a way that makes it easy to understand and apply. This program strengthened my yoga practice both on and off the mat, exponentially. Aside from the plethora of yoga-based knowledge I was able to absorb in these 200 hours; I was also overflowed with inspiration, endlessly reminded to believe and trust in myself, and blessed with the deep connections and friendships formed during this time. I am forever grateful for this experience with these individuals and cherish every moment spent at Pulsation's YTT."
– Paula W., 2019 YTT Graduate
"There are many reasons why I treasure my experience"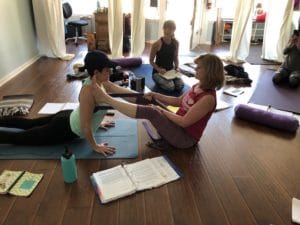 There are many reasons why I treasure my experience with Pulsation's 200 hour YTT lead by [Sandy] and Alison. The variety of readings, the variety of teaching and learning methods and styles, and the variety of perspectives were all fantastic. I think what made it so exceptional and unique boiled down to three interrelated things:
Continual opportunities for application and practice. From day one until the end, we were continually presented with opportunities to apply and practice what we were learning through written assignments, oral presentations, open discussions, and practice in teaching. This was invaluable to helping us get more comfortable with expressing ourselves as well as teaching yoga principles and techniques.
Constructive feedback provided throughout the program. Throughout entire the program, [Sandy] and Alison regularly provided each of us with thoughtful, specific, actionable, and doable feedback that motivated and inspired us to keep developing, growing, and moving forward as yoga practitioners and teachers.
Created a psychologically safe environment for learning. The above two points combined with along with [Sandy's], Alison's and my fellow [trainee's]… personal styles created a caring and fun learning environment where we could speak honestly and openly; where everyone was heard and no one was made to feel stupid; where respect for all was always a priority; where we shared and helped each other; and where we all stayed focused on moving forward toward the shared goal of developing and deepening our knowledge, confidence, and skills as yoga practitioners and teachers.
Words fall short in terms of describing the unique magic of it, but hopefully this gives anyone who is interested the general idea of why I think your program is so special!
– Janet S., 2019 YTT Graduate
If you would like to learn more about the upcoming Yoga Teacher Training and Yoga Studies Programs at Pulsation Yoga, please click here. The most up to date schedule and curriculum are online. Email us at info@pulsationyoga.com with any questions.