Become a
Certified Yoga Teacher
Teacher Training Begins January 9, 2021
Registration is now open for the Pulsation Yoga 2021 Yoga Teacher Training and Yoga Studies programs. These programs begin on Saturday, January 9, 2021, and will meet 12 weekends, ending June 27, 2021.
Pulsation Yoga offers three program choices to suit your needs and schedule:
200 Hour Yoga Teacher Training
100 Hour Yoga Studies Program
50 Hour Yoga Studies Program
200 Hour Yoga Teacher Training
The 200 Hour Yoga Teacher Training hour program will fully prepare you to take the seat of the teacher. It covers class planning, sequencing, languaging and cueing. This training will also help you discover your unique style and voice as a teacher. Upon completion of the 200 hour program, you will be eligible for your yoga teacher certification. 
Training will take place on weekends, typically Saturday and Sunday afternoons, with occasional Friday evening sessions. The location for training sessions will vary between the Lake Zurich and Arlington Heights yoga studios.  
Yoga Studies Programs
We also offer two Yoga Studies programs as a solution for students who want to deepen their knowledge but not attend all 200 hours. For yoga studies, you can choose between a 50 hour or 100 hour program. These two programs were developed to immerse you in yoga philosophy, history, and traditional practices, and to strengthen your asana knowledge.
Neither of the yoga studies options result in a certification, but hours can be applied toward a future 200 hour certification through Pulsation Yoga. The Yoga Studies programs will meet with the 200 hour program for the first several weekends. 
2021 Yoga Teacher Training Schedule
On select Fridays, you will meet 2-3 hours in the evenings, and on Saturdays and Sundays you will meet 4-6 hours during the day. Saturday and Sunday times will vary based on class schedules and workshops but will typically wrap up by 5:00 pm.
The 200 Hour Teacher Training dates are listed below. In addition, the 50 and 100 hour Studies programs will meet on the first several weekends of this schedule:
January 9, 10
January 22, 23, 24
February 6, 7
February 19, 20, 21
March 5, 6, 7
March 20, 21
April 9, 10, 11
April 23, 24, 25
May 7, 8
May 14, 15, 16
June 4, 5, 6
June 26, 27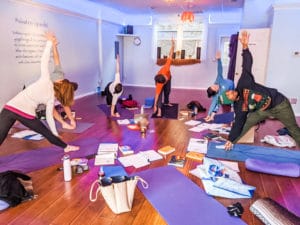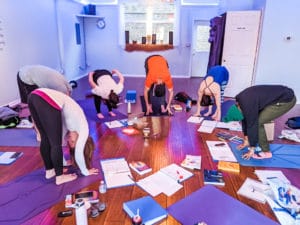 Pulsation Yoga's Teacher Training and Yoga Studies programs are led by Alison Tseng (E-RYT 200, RYT 500, YACEP, Anusara Elements) and Sandy Smith (E-RYT 200, RYT 500, YACEP, Anusara Inspired). Both are graduates of the Pulsation Yoga 300 hour teacher training led by Kathy Simonik.
200 Hour Teacher Training
$2800 (payable in 2 installments of $1400)
or $2700 if paid by January 2, 2021
Meets 12 weekends, January – June
Upon completion, trainees will be eligible for their 200 hour yoga teaching certification
100 Hour Yoga Studies
$1550, paid in full
Meets the first 9 weekends
Does not result in certification
The 100 training hours, and applicable fees, can be applied toward future 200 hour certification training with Pulsation Yoga
50 Hour Yoga Studies
$775, paid in full
Meets the first 5 weekends
Does not result in certification
The 50 training hours, and applicable fees, can be applied toward future 200 hour certification training with Pulsation Yoga
The Pulsation Yoga 200 Yoga Teacher Training program will be a wide-spectrum study, leaving you feeling well-rounded and prepared to teach the style of yoga you feel passionate about. Weekends will include lecture, practice, hands on training and discussion. Some of the weekends may include workshops, which are included in your tuition. The topics covered include:
History, Philosophy, and Practices

The Subtle Body: Meditation and Chakras

Asana and Studentship

In the Anusara Tradition: the Universal Principles of Alignment, Kula (community), and Tantric Philosophy

Anatomy as it Relates to Yoga

Essence of a Great Teacher

Putting a Class Together

Modifications and Adjustments

Developing Skills of a Teacher

Teaching to Different Levels and Styles

Teaching to Special Populations

The Yogic Lifestyle: the Next Steps on Your Journey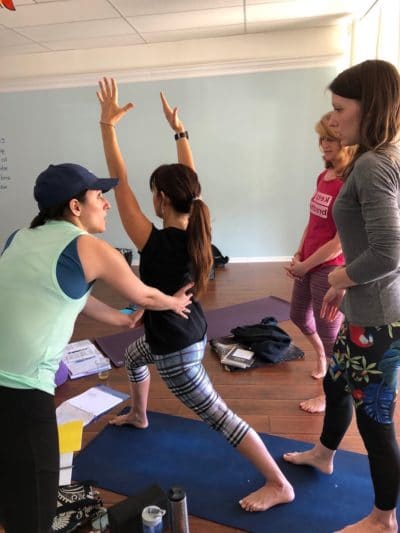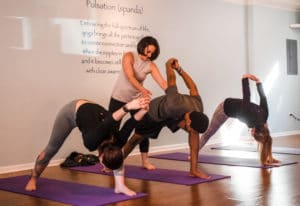 Along with attending the weekends, you will be responsible for class observations, class assists, and completing homework consisting of reading, journaling, writing class plans. All trainees will also complete a 20 hour practicum, studying your individual interest area in yoga. We also offer a discount on class packages to all trainees to continue your yoga practice. 
Pulsation Yoga Teacher Training
Reserve Your Spot Today
We're taking applications now for our 2020 Teacher Training and Yoga Studies Programs. Get started today by providing your name and email, and we will be in touch with the application and next steps.
OUR INSTRUCTORS
We offer the highest quality training you can get, with attention to detail, unique curriculum and hands on learning. Training will be lead by co-owners, Alison and Sandy, with guest teachers.