Share something you love with someone you love!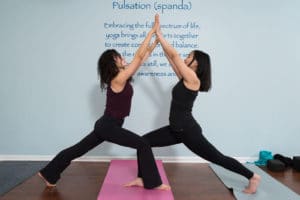 For the month of May, any time you bring a friend (new students only) to a yoga class at Pulsation Yoga, you can both attend that class for free! If your friend has never been to a yoga class in Arlington Heights or Lake Zurich at Pulsation Yoga, this is the perfect time to introduce them to our community. Not only can you practice together, but you can both get that yoga class for free.
This Yoga Friend Special is available the whole month of May.
So any time you bring a new student with you to class in May, you both get that yoga class for free. Just check in at the front desk instead of on the iPad so we can be sure you get your free yoga class.
We want to continue building this strong and beautiful yoga community, and there is no better place to start than with you. Thank you for being a part of this community and helping it continue to grow.
Namaste.