Dear Pulsation Yoga Community,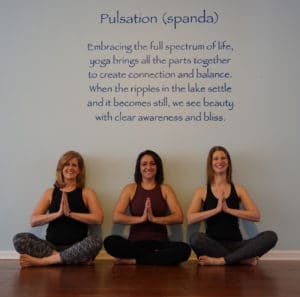 Your strength, resilience and heart have truly amazed us. You've been honest with yourselves and with us about what you need, what you are comfortable with and what is best for your life. Just as in practice, that's all we've ever hoped – that you listen to yourself and trust yourself without judgement.
When details about COVID-19 first started to become reality for all of us earlier in the year, we operated under those same personal guidelines. We wanted you to do what you felt was best for you. Keeping open and honest communications, we did everything we could to help make your experience safe and peaceful if you chose to continue at the studio. However, as we developed a greater understanding of the risks, the choice became clear to us even before it was mandated – and Pulsation Yoga closed the studio doors.
Even though we thought it would only be for a few weeks, we quickly moved to bring as many options as possible to you online, so this community didn't lose its connection. As it soon became clear that weeks would turn into months, we were continually humbled by you, your kindness and that connection.
Without you, we would not be writing today to say that we are able to re-open.
While the experience may look different, Pulsation Yoga is able to re-open both yoga studios under IL State guidelines for safety. Capacity is limited at both studios for proper distancing, there is no close interaction, and cleaning procedures have been amplified. But we understand that for so many of you, it's still not time. So, we want to honor everyone's personal choices by continuing to offer several options for your practice: limited in-studio classes; pop-up outdoor classes; live streaming classes; free online pre-recorded classes; small group private lessons outdoors or in-studio or online; and individual private lessons outdoors or in-studio or online. You can find full re-opening details here.
From the bottom of our hearts, thank you for your continued support. Thank you for sticking with us and trusting us. Thank you for continuing your practice to calm your body and your mind. Thank you for proudly wearing your Pulsation Yoga tshirts and tank tops, for sharing online classes with your families and friends, for your donations, for your prayers, for your kind emails and texts.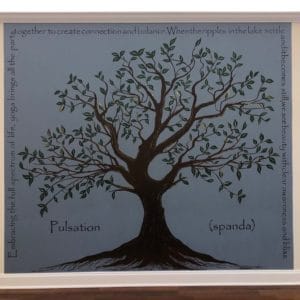 And thank you to Donna Falco for her time and patience to help us literally preserve our roots – she so beautifully and artfully framed the tree mural in Lake Zurich with the Pulsation Yoga poem so that it remained undisturbed when we re-painted the rest of the studio. She peppered in some of her personal touches as well, if you look just close enough. It was the perfect way to show our studio's past, present and future as we start this next chapter of Pulsation Yoga.
As always, our promise to you is to be honest and to serve this community as we best can. We want your practice to bring you peace and connection, however you choose to do it. Please keep these lines of communication open so we understand your changing needs and so we can keep you posted of any changes or news with the studio.
With love and devotion,
Alison, Sandy and Susan