Win big this June when you play Pulsation Yoga Bingo.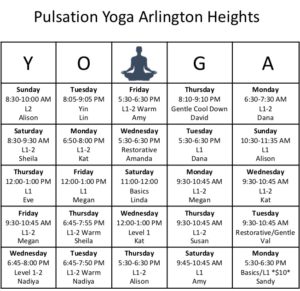 Beginning June 1, Bingo Cards will be available for each studio – one for the Arlington Heights yoga studio and one for the Lake Zurich yoga studio. Each Bingo Card lists the yoga classes available for that location.
Every time you attend a yoga class in June, present your Bingo Card to the instructor for their initials. The more you attend the more you can get.
Pulsation Yoga Bingo Rules and Prizes:
Attend classes in June, instructor will initial Bingo square for that class. One set of initials per visit (if class is listed multiple times on the card, you can only get one set of initials per visit, you must attend again to get initials in the other square).
Turn in Bingo Card by 7/1/19 to claim prizes and be entered for Grand Prize Drawing
Prizes:
For every 5 completed squares in a row (vertical, horizontal, diagonal) you will get one entry into Sweepstakes drawing for Grand Prize of 2 Months Unlimited Yoga
(Drawing to take place on or around the week of July 15, 2019)
For three rows of five initials, receive one FREE Pulsation Yoga T-Shirt
For one complete card, all squares initialed, receive one free 5-pack of Yoga Classes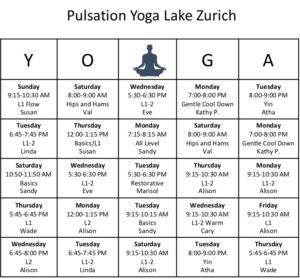 Your Bingo card must have your First and Last Name clearly printed and be turned into either studio by July 1, 2019. The Grand Prize drawing will take place on or around the week of July 15, 2019.
All prizes (Grand Prize of 2 month unlimited yoga, Free 5-pack of yoga and Free Pulsation Yoga t-shirt) will be awarded after the drawing takes place, within one month.
For questions, please email us at info@pulsationyoga.com, call 847-989-7792 or ask at the front desk when attending yoga classes.
Have fun and good luck!