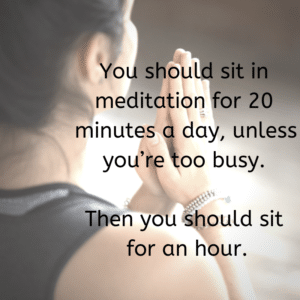 We've all heard the advice at one point or another. "Slow down." "You need to take care of yourself." "If you don't take care of yourself, how can you take care of everyone else?"
And we've all probably said the same excuses in response. "I don't have time." "If I don't do this, it will never get done." "This is too important."
The truth is, the advice is right on – but so are your excuses. So how do you balance between slowing down and getting things done? Ask yourself these simple questions:
Will slowing down for one hour give me the boost I need to get more done later?
If I take time for myself, will everything else be ok for one hour?
Is it really that important to get this thing done right now, today, this way?
Can I be more effective tomorrow if I slow down today?
Am I really the only person who can do this thing or am I choosing to take on more than I need?
Sometimes we mistake habits for necessities. Sometimes there is so much chatter in our heads that we can't hear anything else. It's time to stop, quiet the chatter, break our habits and do something for ourselves. In most cases, the world won't stop if you stop for a short amount of time.
Make Time for  a Regular Meditation Practice
A regular meditation practice can help to calm your mind, reduce stress and increase clarity, all making you a better, more effective and healthier version of you.
Meditation helps you get grounded and look at life from a different, more enlightened perspective. A guided meditation helps you to keep the focus on you. This is where an experienced guide can a make all the difference. An experienced guide can lead you through the noise and help you find that quiet place.
Guided Meditation Thursday Evenings
Thomas Balsamo is a student of life and meditation leader. Meditation has been a part of his life through many years, helping to shape his art, films, and life. And now, at Pulsation Yoga, Thomas will guide you through your meditation experience. This is your time to come to a safe place, open your heart and meditate. Connect with yourself, find clarity, peace and wisdom.
Each month on the first, second and fourth Thursday, students can practice Meditation with Thomas to improve your abilities to quiet your mind, experience being in the moment and to connect with your higher self.
Join Thomas for these upcoming Guided Meditations at Pulsation Yoga in Lake Zurich:
Thursday, January 2, 2020, 7:00 PM
Thursday, January 23, 2020, 7:00 PM
Thursday, February 6, 2020, 7:00 PM
Thursday, February 13, 2020, 7:00 PM
Thursday, February 27, 2020, 7:00 PM
Visit our class schedule for details.