We are very honored to be hosting Desiree Rumbaugh at Pulsation Yoga this weekend for the workshop series: Your Body Is Your Teacher.
She has been traveling the world teaching workshops for over 20 years and she is coming here to our studio this weekend.
We invited her because we have in person experience with her. We have used the physical teachings and the spiritual wisdom that she offers in both our own practices and in our teaching with fantastic results. Now we would like to tell you a little bit more about what to expect from the weekend.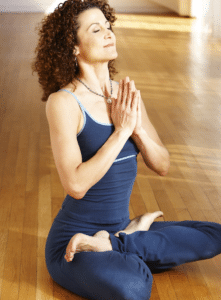 Desiree is 60 years old, a grandmother of two and has been a dedicated yoga practitioner for over 30 years. She has co-authored the book "Fearless After Fifty: How to Thrive with Grace, Grit and Yoga" to inspire people of all ages who are seeking motivation and ways to overcome pain and the fear that often accompanies it, so that they can keep going with their practice when the body seems to be breaking down a bit.
While the aging process bring us much wisdom, it also brings challenges of all shapes and sizes. Desiree walks her talk. She has lived through deep tragedy and learned how to regain her joy after the loss of her 20 year old son.  Having dealt with back, neck, shoulder and knee issues during her long yoga career, she regularly works with Physical Therapists and Functional Strength trainers.  This work keeps her body strong so that she can continue to travel and share all that she has learned with others who are interesting in thriving rather than just surviving.
Desiree's travel schedule is full and booked two years in advance world-wide. Now she is coming here to Pulsation Yoga and we are thrilled. If you decide to join us for this wonderful opportunity that is coming to your very own backyard you will:
Learn more about your unique spine and muscular holding patterns that might be keeping you from feeling good in your body
Discover simple ways to change your habits that will bring immediate relief to chronic issues
Open up energy inside your body and mind that may be currently blocked
If you are a teacher, you will gain solid tools that will help you become even more effective in seeing and working with your students
All levels of experience are welcome to attend, from beginners to seasoned practitioners and teachers!
Friday night: Free your knees and hips: Hip Openers will unlock the stiffness in your lower back and pelvis thereby releasing your knees from pain
Saturday morning: Your Fluid Spine: We will learn poses will teach you how to use strength to help your spine, including your neck and shoulders, to become more flexible which can relieve suffering
Saturday afternoon: Therapeutic yoga will teach you how to heal your body from head to toe with yoga
Sunday morning: Full Spectrum Practice will be a step by step exploration of how to prepare and realign your upper body to make it stronger and healthier. We do not expect you to be able to already do more challenging poses. We offer this class as an antidote to the epidemic of "Text Neck Syndrome" that people of all ages are now dealing with as technology takes over our every day lives. This class will improve your posture and relieve chronic stress in your neck and shoulders.
Register for these events today and reserve your spot, space is limited.
For more information about Desiree, please visit her website: www.desireerumbaugh.com
To get a feeling for her intention as a teacher, click on this link: http://www.desireerumbaugh.com/spotlight-video/