Pulsation Yoga is excited to bring back a Restorative Yoga class that adds the healing power of Reiki. This powerful combination can deepen the relaxation of mind, body, and spirit.
The sessions are a 75 minute experience each week, taking place in the Arlington Heights studio with Patty Wisniewski, beginning Sunday, May 15, 2022.
Benefits of Restorative Yoga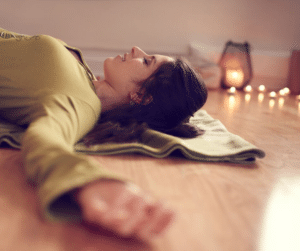 After a brief centering, Patty will lead you through classic restorative yoga poses to create gentle openings, which bring the body back to its natural alignment. You will be fully supported in each pose, allowing the muscles to relax and open while encouraging the release of stress, anxiety, and toxins that can cause illness. Patty is an experienced yoga instructor with multiple certifications and is a Reiki Master.
The Healing Touch of Reiki
While in these poses Patty will share the healing touch of Reiki with each student. Reiki is a form of energy therapy that enhances the natural healing system of the body and creates relaxation and a sense of well-being. During Reiki, the brain goes into an alpha state similar to that experience during meditation or right before falling asleep. It has also been shown to relieve both chronic and acute pain, ease depression and anxiety, and increase the white blood cell count, which gives the immune system a boost.
The combination of Restorative Yoga and Reiki Healing provides a night of powerful healing and beautiful relaxation. Experience it for yourself every Sunday at 6:00 PM in the Arlington Heights studio, beginning May 15, 2022.
Class size is very limited to enhance the experience of all students and participants, be sure to register in advance to secure your spot. Regular class packages and pricing apply.
First offering is Sunday, May 15, 2022, at 6:00 PM in Arlington Heights.
Check our regular schedule for class times and updates.