Updated January 26, 2021, from a previously published article.
This is not yoga for weight loss. It is not about changing you. This is about changing the way you can approach a yoga practice.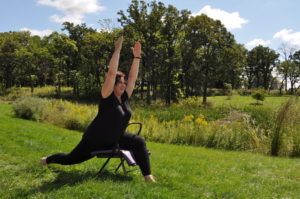 Elizabeth Vesto teaches Plus Size Yoga with the intent to make yoga accessible for every body. And every body is different. But those differences are no reason to avoid a yoga practice, which can benefit the mind, body and soul. Using props, modifications and transitions, Plus Size Yoga will help you focus on your practice and nothing else. (See Class Schedule and Register here).
Elizabeth is an experienced practitioner and an experienced teacher, and she is ready to share her journey with you – and some great yoga tips and adjustments she learned along the way.
Originally from the Ozark Mountains of Southern Missouri, Elizabeth moved to St. Louis and studied engineering and law. After marrying her Finnish husband, she moved to Arlington Heights in 1994 and has called it home since. "Yoga wasn't a part of my life back then," she says. "I didn't think yoga was accessible for someone built like me."
"I didn't think yoga was accessible for someone built like me."
But she gave it a try, joining her first Kundalini class in 2012. And that changed everything.
"After learning I had osteoarthritis, I began physical therapy. It helped, but I didn't necessarily feel better. Then I started taking Yogafit classes. In yoga I found a more balanced, whole body approach than in physical therapy."
Elizabeth received her Level 1 Teacher Training through Yogafit and began teaching yoga. After that, her studies continued with a 250 hour training at Prairie Yoga in Lisle with Lori Gaspar and Linda Troutman. "There I learned an alignment-based approach with its roots in Iyengar yoga. I enjoyed training so much that I continued on to get my 500 RYT.
"My focus is on adaptations, yoga for seniors, and full bodied yoga. In addition, I mentored two classes of trainees and assistant taught the adaptations module of the 500 training."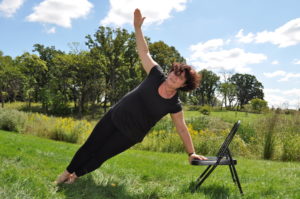 Join Elizabeth as she brings her experience, knowledge and personal touch to Plus Size Yoga at Pulsation Yoga in our Lake Zurich, IL, yoga studio. She will guide you through an inspiring and challenging yoga class, helping you to feel poses in a way that works for you. In class, the focus is entirely on you and how she can help you experience yoga.
Weekly classes are every Saturday, at Pulsation Yoga in Lake Zurich (located in the Village Square Shopping Center, near the Office Max and 5 Below) from 8:00-9:00 AM. See our regular class schedule for details and for registration, and walk-ins are always welcome. Registering in advance allows us to contact you if there is any change to the schedule due to weather or other unforeseen conflicts, but is not required.