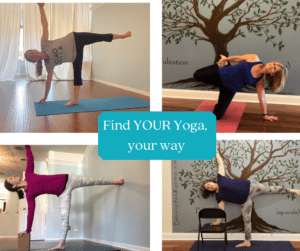 What is the best yoga studio near me?
Is yoga right for me?
If I'm not flexible, can I still do yoga?
Isn't yoga just stretching?
These are some of the most common questions that we often hear when it comes to finding a yoga studio or starting a new yoga practice. In reality, yoga is a simple yet complex system that is meant to bring together the mind, body and breath. What that looks like is very individual to every person who walks into the yoga studio. While some students may feel challenged in some classes, others may not. What you need on one day may not be what you need the next day. Your practice should make you feel good, and only you can know what that means. Like many things in life, you get what you put into your practice and you take what you need from it.
Choosing the Right Yoga Studio
Not every studio is the same, but neither is every student. When looking for a yoga studio near you, there are several things to keep in mind:
Location – does the studio have one or more locations that are convenient for you and your path, be it work, errands, home, friends, etc
Offerings – are there a variety of different classes and times so that you can find the right class
Community – do you feel welcome at the studio or do you feel like everyone knows something you don't know? It's important to feel comfortable and open with the teacher and the other students
Safety – are the teachers knowledgeable and in tune with the class and are they paying attention to your alignment? Injuries in yoga are common when alignment is ignored or postures are put together too quickly. Make sure your body feels good and always understand the difference between feeling discomfort and feeling pain. And most importantly, feel confident and comfortable enough to know when your body should not move a certain way, even if other students in class are doing it. Your yoga practice is individual to you and your needs and your body and there is no shame in that.
What to Expect at Pulsation Yoga
At Pulsation Yoga we focus on making sure that all students feel welcome and accomplished in their practice. We offer several different types of classes plus multiple days, times and teachers so that all students can find a practice that feels right for them. All Pulsation Yoga teachers are trained to help students access postures in a way that work for them. Class types vary from very active to very peaceful and with everything in between. A full description of all our class offerings and what you can expect in these classes can be found here.
In any class, there are no expectations that you can already do everything presented in class. Our more active classes, such as Intermediate Yoga and All-Level Yoga, have a lot of movement and may introduce more challenging postures. These classes also introduce different ways to access those more challenging postures and to prepare your body for them with no judgement or expectation. In other words, you don't have to already be doing it to come to class. Class is where you learn and and where you build the strength and confidence to work toward these postures.
Class Packages and New Student Deals
New Students at Pulsation Yoga can try unlimited yoga for one week ($29) or two weeks ($49), which is the perfect way to learn which teachers and classes work best for your individual needs. This new student deal is good at either studio for any regular class.
Existing students can choose the type of package that works for their schedule and their needs.
5-, 10- or 20-pack expire one year from purchase
4-, 6-, 8- or 30-class package lowers the price per class but expires in 30 days
Drop ins are $20
We offer discounts for students and seniors as well
We'd love to see you at the studio and to answer any additional questions you may have. We have two yoga studios in the Northwest Suburbs of Chicago – an Arlington Heights yoga studio, located in Cook County, and a Lake Zurich yoga studio, located in Lake County. All class packages are good at either studio. Yoga props and mats are are always free to use at the studio and we also sell mats and props at the studios if you would like to invest in your own.
How do I Get Started at Pulsation Yoga?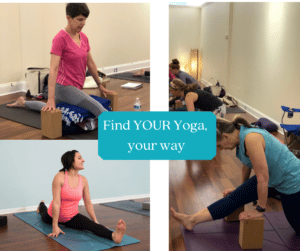 You can find our two yoga studios in the Northwest Suburbs of Chicago:
Pulsation Yoga Arlington Heights – 17 E Miner Street, across from the Uptown Cafe
Pulsation Yoga Lake Zurich – 729 W Rt 22, next to the Five Below near the Trader Joe's
New students can register an account online or when you come in. We encourage all new students to come 10-15 minutes prior to class to get familiar with the teacher and the space and ask any questions.
Other things to know about Pulsation Yoga:
The studio is open 15 minutes prior to and after classes, but we do not regularly have someone at the front desk, so if you want to stop in please see our schedule and be mindful of class times. Doors are locked during class
Walk-ins are welcome at the studio as long as there is space
Registration prior to class is encouraged so you will be notified if there are any changes or cancelations due to weather or other unforeseen events
You can always find our most current schedule for both studios at pulsationyoga.com/class-schedule. Be sure to click "next week" to view all weekly classes
Teacher profiles are available on our website if you want to learn more about our teachers and their style
You can always call us at 847-989-7792 if you have any additional questions. We look forward to meeting you soon.