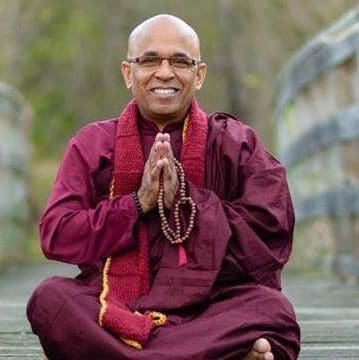 Live Streaming Discussion and Meditation with Bhante Sujatha
Friday May. 14 @ 7:00 pm CDT

-

8:00 pm CDT

|

$35
Bhante Sujatha brings his message of loving kindness to our community through a live streaming discussion and meditation on Friday, May 14, 2021. Now, more than ever, we can all benefit from his message, his calming presence and his beautiful spirit.
Bhante's humanitarian work spans the globe. He most recently oversaw the re-fitting of five hospitals with significant needs. In 2013, Bhante Sujatha was awarded the highest honor within his lineage, being named the Chief Sanhga Nayaka of North America. This was in recognition for the incredible impact he's made to spreading Buddhism across America.
On any given day, you can find Bhante inspiring others to give and do even more to help the world. This tireless crusader infuses every single waking moment with total purpose and dedication to his mission: adding more love to the world.
Please join him on his quest.
This is a live-streaming event you can enjoy from the comforts of your home. You must have a valid email on file and register at least 30 minutes prior to the start time. Please download the Zoom app prior to workshop time so you can easily access the discussion. Be sure to call Pulsation Yoga at 847-989-7792 with any questions.