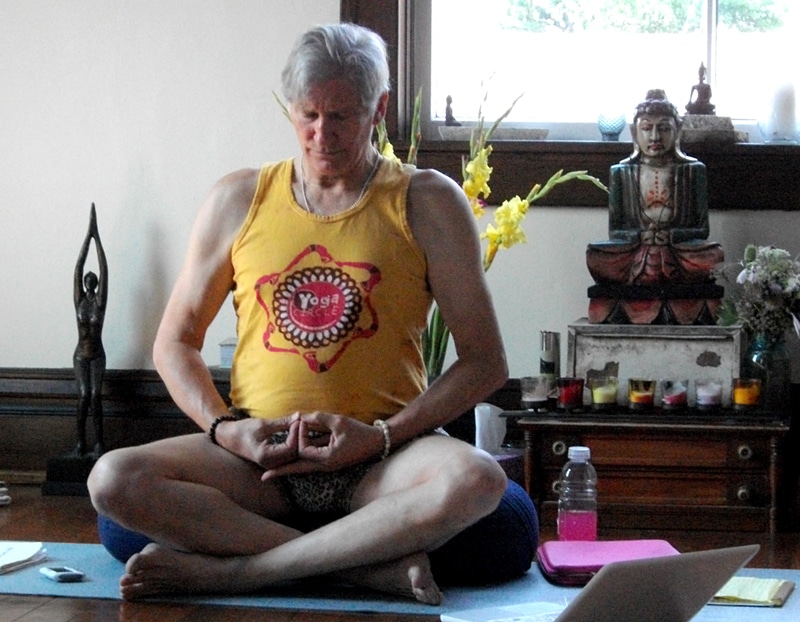 Both Sessions with Gabriel Halpern (Live-Streaming)
Saturday Nov. 13 @ 11:00 am CST

-

2:30 pm CST

|

$60
This is registration for both sessions with Gabriel Halpern: Pranayama and Mantra, Mudra and Meditation events.
Pranayama
Many people are accustomed to living with tension rather than with peace and vitality. Yoga teaches that pranayama infuses one's life with vigor and calm by regulating the inhalation and exhalation and transitions the between breaths.
The class will begin with a series of restorative postures which are a pre-requisite for regulating the breath to make it slow and subtle.
The difference between abdominal breathing, deep breathing, pranayamic breathing will be explained, instructed, observed and corrected.
Sitting techniques and digital control will also be taught.
What's the point of all this breath control?  According to the Yoga Sutras, repeated practice of pranayama thins the veils of karma which cloud the inner light. Now the mind is fit for and capable of concentration. Then the withdrawn senses turn inwards towards the Self.
Mantra, Mudra And Meditation: Turning The Mind Inwards
It's a cliche to say about Eastern philosophy that "the answers lie within."
But to that end, Yoga utilizes sound vibration (mantra), iconographic gestures (mudra), and meditation (dharana) to create an experience of the truth of ecstatic states.
This workshop will practice chanting the mantras and mudras of each of the seven chakras.  Meditation  through visualizations and mindfulness will be also discussed and experienced.
The take away from this workshop will be having leaned simple and effective ways to calm yourself down with a focused clarity to what is going on.  This is a wonderful empowerment tool for facing whatever life brings.
Why does this matter? Because disconnected from the source of oneself is living in a state of alienation. Yoga guides you to the core of being which is your very Self.
This is a live-streaming event. Yoga Teacher Trainees will be in-studio, students are invited to join us live-streaming to ensure proper spacing during pranayama. This is registration for both the Pranayama and the Mantras and Mudras workshops with Gabriel Halpern – if you choose to register for just one, please use the separate registration.
Join us online Saturday, November 13, 2021 for this live-streaming yoga event.
Price: $60 for all sessions
Level: All-Level + Instructors and Yoga Teacher Trainees